Photo Album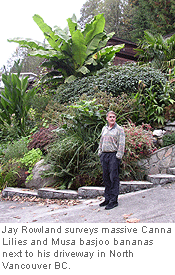 Your Northwest palm and exotic plant photos can be added to this collection. The list contains out of date features but some (at the bottom of each list) have been added recently and are flagged by their entry date. Also, with the growing popularity of personal photo sites we encourage you to set up your own slideshow on your own site, then send us the link. This allows for higher resolution pictures to be displayed and reduces the strain on our limited server space.
Private Gardens
The Photo Festival Participants from 2008 have been tagged with PFP
Society Events
Various Photos
If you would like to see your garden featured on the PNWPEPS website, please email us at hpi_john@hardypalm.com.