Join the Society!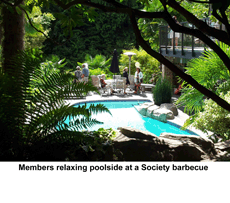 Don't miss out on the chance to meet fellow palm and exotic plant fanatics and share knowledge and experience! Society membership includes meetings with feature speakers, social events, two 40-page issues of Hardy Palm International, a wall calendar featuring member's gardens and exotic plants, and a membership card that entitles you to discounts at many local plant nurseries.
Annual membership rates are $28 CDN for Canadian addresses, $28 USD for U.S. addresses and $29 USD for addresses outside North America.
In addition to annual rates, convenient and cost saving multi-year rates are also available. If you are a new member or wish to renew your membership in the PNWPEPS, you have two payment options.
Option 1. Pay online using Paypal (which also accepts regular credit cards and Visa debit). Choose the the appropriate button below*.
Canadian address:
USA address:
International address:
*We will assume the "Shipping Address" and email address you use to pay by this method will be the ones we use to mail you your HPIs, and to communicate with you about Society activities. Please email the membership director if this information is different.
Option 2. Open and print our 2018 Membership pdf form. Fill in the printed form, following the directions on it.
When completed, return your form to the address below by regular mail, or scan it and send the scan as an email attachment to Charlie Warburton.
You may contact us by email, or by regular mail at the address shown below.
PNWPEPS
10310 Hollybank Drive
Richmond, BC
V7E 4S5 Canada
Phone: (604) 271-9524